SAICHO AND THE CHOCOLATIER BUNDLE
Posted by DENISA CHISCOP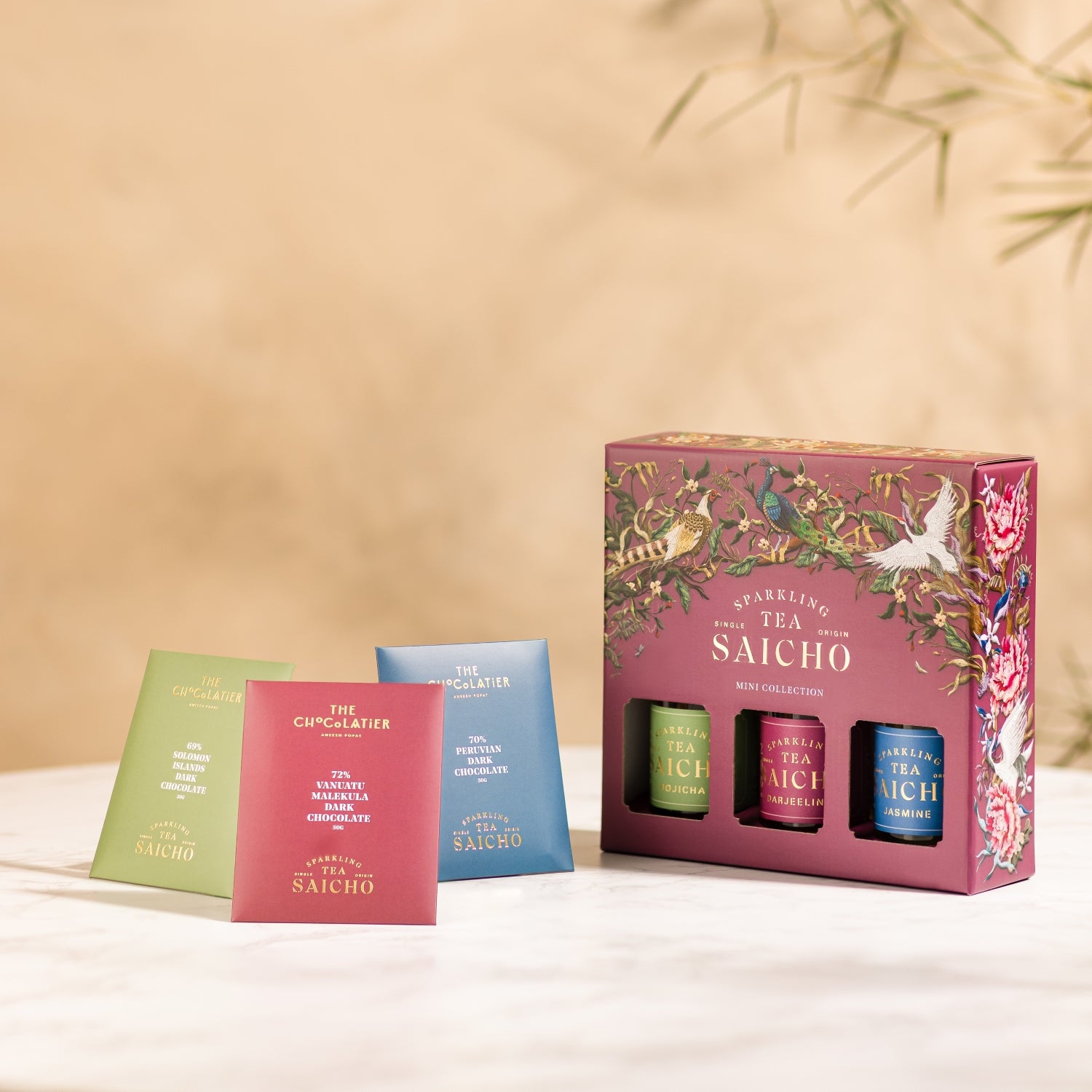 This Christmas, explore a match made in heaven with Saicho's exclusive single-origin chocolate pairing from The Chocolatier. The perfect pairing experience for the festive period. Indulge your dinner party guests or simply yourself in a unique sensorial collaboration of flavours.
Sparkling tea and chocolate are an unconventional pairing, but one not to be overlooked. Saicho and The Chocolatier have worked together to align the distinctive flavour notes of each single-origin sparkling tea to a perfectly paired single-origin dark chocolate. Creating a beautifully harmonious taste experience.
Charlie Winkworth Smith: " We were excited to work with Aneesh and The Chocolatier team as we have a complementary view on the quality and richness single-origin ingredients bring to Saicho and their chocolates"
To taste, we recommend you allow a piece of chocolate to melt on your palate before indulging in the preferred sparkling tea pairing.
Vanuta Malekula Dark Chocolate perfectly paired with Saicho Sparkling Darjeeling

We have paired The Chocolatier's 72% Vanuta Malekula dark chocolate with Saicho
Darjeeling sparkling tea. The notes of ginger, mandarin and wood spice beautifully
complement the complexity of the cherry, white grape and soft lemon notes exhibited by
the single-origin dark chocolate.

Solomon Islands Dark Chocolate perfectly paired with Saicho Sparkling Hojicha

The Chocolatier's 69% Salomon Islands Dark Chocolate has been strikingly paired with
Saicho Hojicha sparkling tea, with the distinguishing notes of hazelnut, seaweed and roasted
chestnut. This paring perfectly fits the enduing cocoa, overlaid with red fruits, citrus and
delicate plum notes.

70% Peruvian Dark Chocolate perfectly paired with Saicho Sparkling Jasmine

The exquisite pairing of Saicho Jasmine sparkling tea and The Chocolatier's Peruvian dark
chocolate is a match made in heaven. Our Jasmine sparkling tea explores notes of apple
sherbet, vanilla and lychee offering a divine sweet sensation for the palate. Experience the
intensity of fruity and citrus notes coming through from The Chocolatier's 70% Peruvian
dark chocolate.

Aneesh Popat: "Single-origin chocolate is special because you get a concentration of flavour.
When mixing origins, this is entirely lost. By using beans from one source, we gain a wealth
of flavour which delicately unravels on the palate.

It has been so much fun to collaborate with Saicho! Tea needs to be bold and stand up
against chocolate. Saicho is packed full of flavour and they really work well with chocolate.
Much like chocolate, tea is carefully harvested with a unique and specific process, the
respect and ritual observed in fine foods crosses over cultures and this is seen in the breadth
of Saicho's range"
We are offering an exclusive quantity of the Saicho and The Chocolatier bundle this Christmas. Making this an extra special gift for your foodie friends and Family.
Collection 2019
Sale 70% Off
Title for image