Cocktail Suggestions
Ingredients
nutritional info
CUSTOMER REVIEWS
Cocktail Suggestions
Ingredients
Darjeeling
• 24 Hour Cold Brewed Darjeeling Tea (93%)
• White Grape Juice From Concentrate
• Acid (Citric Acid)
• Vitamin C
• Carbon Dioxide.
Hojicha
• 24 Hour Cold Brewed Hojicha Tea (93%)
• White Grape Juice From Concentrate
• Acid (Citric Acid)
• Vitamin C
• Carbon Dioxide
Jasmine
• 24 Hour Cold Brewed Jasmine Tea (87%)
• White Grape Juice From Concentrate
• Acid (Citric Acid)
• Vitamin C
• Carbon Dioxide
69% Solomon Islands Dark Chocolate
Cocoa Mass, Sugar, Cocoa butter,
Emulsifier (sunflower Lecithin,
SOYA Lecithin)
Min. Cocoa Solids 69%
May contain MILK, GLUTEN,
TREE NUTS, PEANUTS,
SESAME, SULPHITES
72% Vanuta Malekula Dark Chocolate
Cocoa Mass, Sugar, Cocoa butter,
Emulsifier (sunflower Lecithin,
SOYA Lecithin)
Min. Cocoa Solids 72%
May contain MILK, GLUTEN,
TREE NUTS, PEANUTS,
SESAME, SULPHITES
70% Peruvian Dark Chocolate
Cocoa Mass, Sugar, Cocoa butter,
Emulsifier (sunflower Lecithin,
SOYA Lecithin)
Min. Cocoa Solids 70%
May contain MILK, GLUTEN,
TREE NUTS, PEANUTS,
SESAME, SULPHITES
nutritional info
Darjeeling
Nutritional data per 100mL

| | |
| --- | --- |
| Energy |  73kJ/17kcal |
| Fat | 0.1g |
| of which saturates | 0.1g |
| Carbohydrates | 4.0g |
| of which Sugars | 3.7g |
| Protein | 0.1g |
| Salt | <0.1g |
| Caffeine | 13 mg |
Hojicha
Nutritional data per 100mL

| | |
| --- | --- |
| Energy | 76kJ/19kcal |
| Fat | 0.1g |
| of which saturates | <0.1g |
| Carbohydrates | 4.4g |
| of which Sugars | 4.2g |
| Protein | 0.2g |
| Salt | <0.1g |
| Caffeine |  8 mg |
Jasmine
Nutritional data per 100mL

| | |
| --- | --- |
| Energy | 16kJ/27kcal |
| Fat |  0.1g |
| of which saturates | <0.1g |
| Carbohydrates | 6.5g |
| of which Sugars | 6.0g |
| Protein | 0.2g |
| Salt | <0.1g |
| Caffeine | 18 mg |
69% Solomon Islands Dark Chocolate
Nutritional data per 100g

| | |
| --- | --- |
| Energy |  2313kJ/557kcal |
| Fat | 39g |
| of which saturates | 24g |
| Carbohydrates | 36g |
| of which Sugars | 23g |
| Protein | 9.4g |
| Salt | 0.02g |
72% Vanuta Malekula Dark Chocolate
Nutritional data per 100g

| | |
| --- | --- |
| Energy | 2341kJ/564kcal |
| Fat | 41g |
| of which saturates | 25g |
| Carbohydrates | 34g |
| of which Sugars | 29g |
| Protein | 9.6g |
| Salt | 0.02g |
70% Peruvian Dark Chocolate
Nutritional data per 100g
| | |
| --- | --- |
| Energy | 2125kJ/479kcal |
| Fat |  35.8g |
| of which saturates | 21g |
| Carbohydrates | 51.6g |
| of which Sugars | 30g |
| Protein | 8.4g |
| Salt | trace |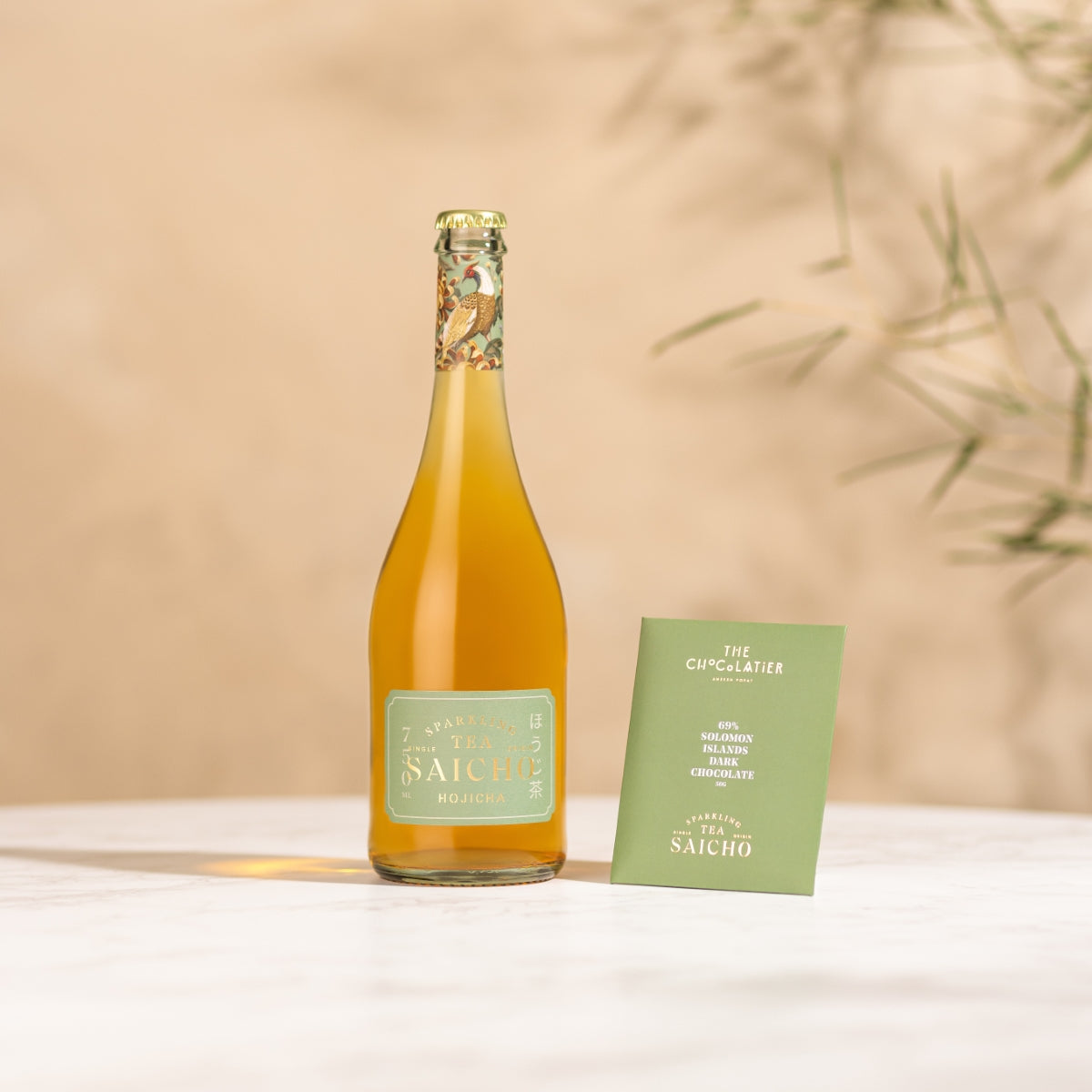 69% SOLOMON ISLANDS DARK CHOCOLATE PERFECTLY PAIRED WITH SAICHO SPARKLING HOJICHA
The Chocolatier's 69% Salomon Islands Dark Chocolate has been strikingly paired with Saicho Hojicha sparkling tea, with the distinguishing notes of hazelnut, seaweed androasted chestnut. This paring perfectly fits the enduing cocoa, overlaid with red fruits,citrus and delicate plum notes.
72% VANUTA MALEKULA DARK CHOCOLATE PERFECTLY PAIRED WITH SAICHO SPARKLING DARJEELING
We have paired The Chocolatier's 72% Vanuta Malekula dark chocolate with Saicho Darjeeling sparkling tea. The notes of ginger, mandarin and woodspice beautifully complement the complexity of the cherry, white grape andsoft lemon notes exhibited by the single-origin dark chocolate.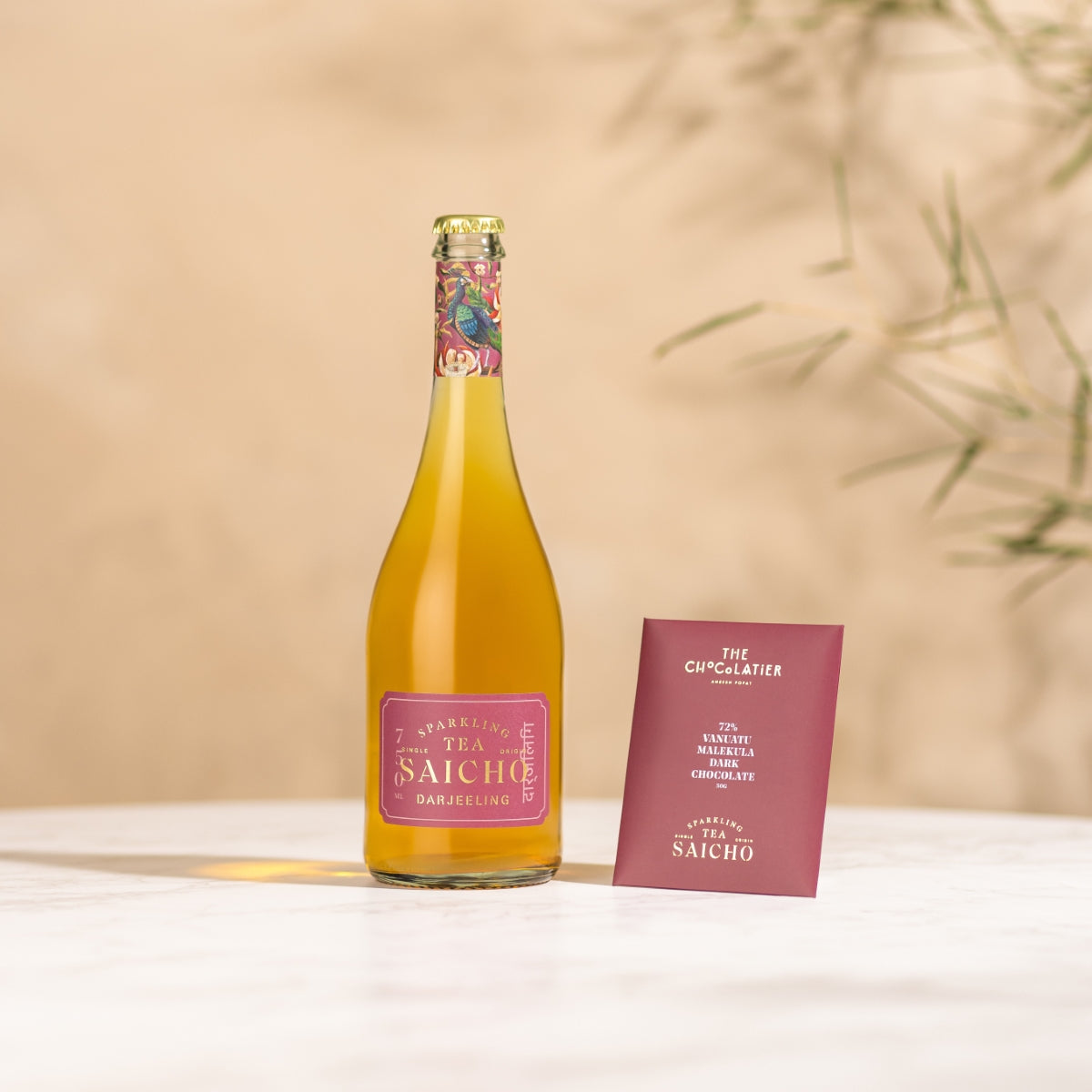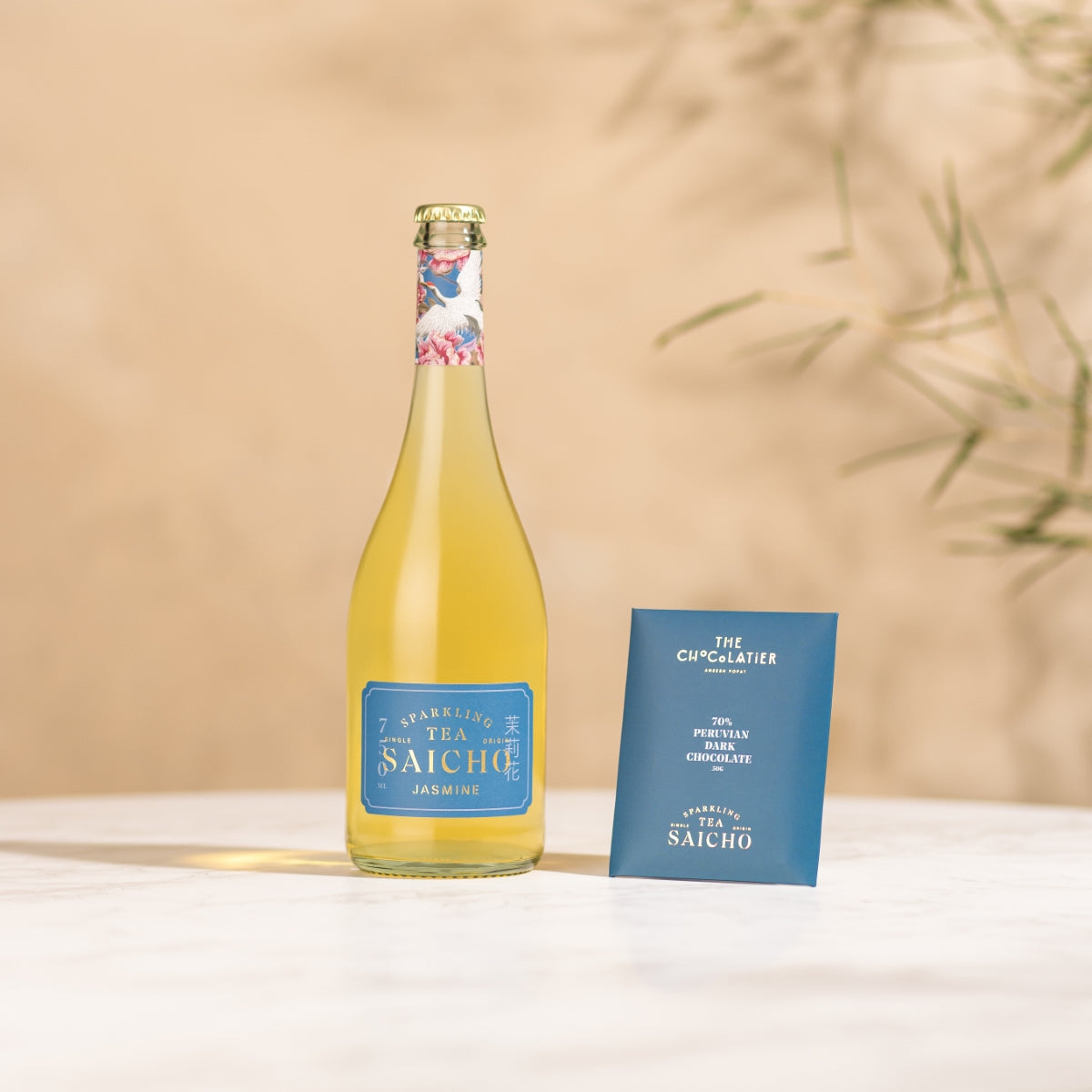 70% PERUVIAN DARK CHOCOLATE PERFECTLY PAIRED WITH SAICHO SPARKLING JASMINE
The exquisite pairing of Saicho Jasmine sparkling tea and The Chocolatier's Peruvian dark chocolateis a match made in heaven. Our Jasmine sparkling tea explores notes of apple sherbet, vanilla and lychee offering a divine sweet sensation for the palate. Experience the intensity of fruity and citrus notes coming through from The Chocolatier's 70% Peruvian dark chocolate.
Aneesh Popat, The Chocolatier is an award-winning chocolatier and an ambassador of fine chocolate. His clientele includes royalty, Michelin starred restaurants and luxury hotels."It has been so much fun to collaborate with Saicho - tea needs to be bold and stand up against chocolate - Saicho is packed full of flavour and they really work well with chocolate. Much like chocolate, tea is carefully harvested with a unique and specific process - the respect and ritual observed in fine foods crosses over cultures and this is seen in the breadth of Saicho's range"